Welcome to Licheloathe's World
"Welcome to my world, wont you come on in... ?"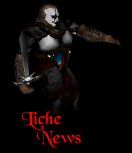 27th Febuary 2000
Fed up of wasting my time over at the SW site, so now I'll be working on here more often. Expect to see some new stuff and a new look on the site...
Later, Liche
21st Febuary 2000
I finally put up a little 'Coming Soon' message over at the clan site, and I'll start work over there asap, but unfortunately I wont be updating here so often, but I'm sure you can all handle that! www.clansw.co.uk
Keep safe, and don't do anything I wouldn't do (haha, well that limits it down!)
Liche
I am making this page in conjunction with my good buddy Rat-Bane and this page is about all the things that matter to me!




People Pages:




Powered by counter.bloke.com